Specialties
Just a CF-L1... Not enough for you !
CrossFit Kids adapt the CrossFit methodology for kids from 3 to 18 yo.
The CrossFit Kids method insist on a good movement during childhood and adolescence to educate to a safety sports practice. In addition, a large corpus of research indicates that exercising is beneficial for cognitive function, wich mean that regularly attending at CrossFit Kids can have a positive impact on children scolar success.
CrossFit Kids entertainment for all ages too, wich means an active alternative to our sedentary lives and an active fight against infantile obesity and generally a good way for your children to be in a good health. CrossFit Kids is build to be minimalist, cheap and always required a few or no equipment, that allow everyone to be fit.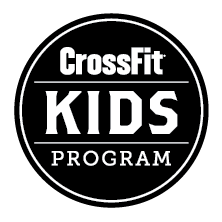 CrossFit Endurance> is appropriate for all populations, from the casual CrossFitter to the futur competitor looking to create a stronger and more efficient aerobic system. CrossFit Endurance integrates several methods integrates several methods in the CrossFit programming to maximize athletics performances. It's an effective way to develop one's cardiovascular "engine" and technic on the differents exercices specific to CrossFit Endurance.
CrossFit Weightlifting purpose is to work on snatch and clean & jerk.
Emphasis is placed on the basic positions and technical specificities of these Olympic movements. Snatch and clean & jerk need speed, power, coordination, agility, accuracy et balance : essential qualities to practice CrossFit and to develop a complete athlete.
CrossFit Strongman is destined to Crossfitters wishing to be more complete by working on strongman contests movements.
It's a perfect - and funny - way to enhance strength without dumbbells. Because of the size (often big), shape and weight of the objects used in CrossFit Strongman, the lifts tends to be less effective than those made with the bars and require a totally different dexterity.
These movements solicit the neuromuscular system in a different way than with a dumbbell and can be closer to functional movements found outside the gym. The Atlas stone, farmer walk, tire flip or Axle bar will have no secrets for you !
CrossFit Powerlifting insists on the 3 major movements of powerlifting : back squat, deadlift and bench press. You will work on your strength via theses movements and also with some assistance movements to vary on loads and volume.
Improve your strength, improve your CrossFit !
CrossFit Scaling let us adapt every movements to every single one of our adherents.
---
Contact
Further informations
Access navigation via Google Map.
100m from tram station. Lane A, stop Les Aulnaies.
---
537 rue de la Juine, 45160 Olivet
---